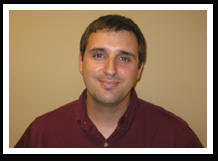 Greg Polasky | Senior Technician
Greg Polasky is one of our outstanding Senior Technicians. Greg has over 7 years of experience in the Audio/Video Custom Integration field serving high-end customers. Greg specializes in AV systems installations, lighting control installations and computer networking configurations.

Greg has completed advanced Denon certification classes and is also a Colorado vNet lighting control certified programmer. Greg has also achieved his URC MSC-400 programmer certification and has completed multiple Elan University courses along with networking configuration classes.

Greg is originally from Ripon, WI and then moved out to Colorado where he attended the Colorado Institute of Art in Denver and studied graphic design. He then moved to Ft. Lauderdale where he got his start in the A/V industry working for some of the leading A/V companies in South Florida where his work has been featured in industry magazines. Greg then settled down in Orlando with his family and joined Innovative Home Theaters where he continues honing his technical skills with Central Florida's premier home theater design and installation company.