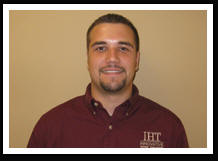 Todd Schenck | Lighting and Control Division Manager
Todd Schenck is our Lighting and Control Division Manager and has made IHT his home for the last four years. Todd has over 7 years of experience in Professional Recording Studio Engineering and Design and over 5 years of experience in the Consumer Electronics Design and Installation field.

Todd has college degrees in Audio Recording Arts, Entertainment Business and Law, and Piano Performance from Full Sail University and The Ohio State University. Todd is an HAA Level 1 Acoustical Calibration Certified Engineer and is also NuVo Certified, Denon CI certified, Sony NHS certified, Lutron RadioRA certified, Universal Remote Control Certified, MSC-400 Certified, Colorado vNet Certified, OnQ certified, Symetrix DSP certified and HDMI certified.

Todd specializes in Audio System Design and Calibration of high-end Home Theater and Digital Surround Sound Systems and heads up the lighting and control design division of IHT. Todd is an active member of the Orlando HBA, CFHDS (Central Florida High Definition Society), AES (Audio Engineering Society) and HAA (Home Acoustic Alliance).

Todd is originally from Medina, OH and in his free time he enjoys listening to live/recorded music, playing musical instruments and recording music.