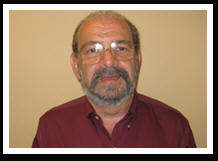 Jim Barto | Technology Consultant
Jim Barto is a Technology Consultant with Innovative Home Theaters, Inc. and helps to focus activities with the Home Builders Association, Architects and the American Society of Interior Designers.

Jim moved to Central Florida from Erie, Pennsylvania after the "Winter of 1978" and has been involved with Consumer Electronics ever since! He discovered a company in the Altamonte Mall called Video Concepts back when the term Home Theater was just being thought of as entertainment. VCRs weighed over thirty pounds, did nothing and cost over $1,000.00! In the 30 year span since then, Jim has designed and installed Home Theaters, distributed audio/video systems, security and camera systems for some of Central Florida's finest homes and businesses.

Jim is trained in Home Theater Design and Project Management from The Bedrock Learning Institute and trained and certified by OnQ, Sony New Home, Lutron, Pioneer, RTI Control, and Panasonic among others.

Jim and Bonnie, his wife of 15 years, enjoy spending time in their backyard oasis and traveling home to Pennsylvania to visit family and friends. Jim has a daughter and two beautiful grandchildren.