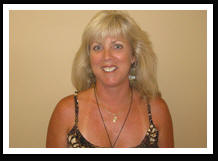 Vicky Daniell | Operations Manager
Vicky Daniell is our Operations Manager and has been with Innovative Home Theaters, Inc. for the last 3 years. Vicky brings numerous years of experience in running a large department within the Darden family of companies.

Vicky is responsible for ensuring the smooth operation of all day-to-day activities within Innovative Home Theaters. Vicky coordinates all shipping and receiving, all order processing and inventory control, along with all repairs and returns. Vicky plans and coordinates all of the numerous IHT special events that are conducted throughout the year and acts as a liaison with all of our customers, vendors, suppliers and alliance team members.

Vicky lives in Clermont and enjoys all outdoor activities, including gardening and landscaping, along with boating and camping.